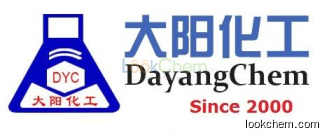 Bismuth trioxide in stock CAS NO.1304-76-3
MSDS/COA Download

FOB Price: USD 3 /Metric Ton Get Latest Price
Min.Order: 1 Kilogram
Payment Terms: L/C,D/A,D/P,T/T
Available Specifications:

Electron Grade(1-10)Metric Ton

Keywords
Bismuth trioxide Manufacturer in China
Bismuth trioxide Factory in China
Bismuth trioxide High quality best price
Quick Details
ProName: Bismuth trioxide in stock
CasNo: 1304-76-3
Molecular Formula: Bi2O3
Appearance: Showed in specifications
Application: Raw materials for use in making metal ...
DeliveryTime: prompt
PackAge: according to the clients requirement
Port: Shanghai
ProductionCapacity: 1-50 Metric Ton/Month
Purity: 98%
Storage: Store in dry, dark and ventilated plac...
Transportation: by sea or by air
LimitNum: 1 Kilogram
Grade: Industrial Grade,Electron Grade
Superiority
Based on high temperature process technique and advanced equipment, DayangChem is a specialized manufacturer of potassium titanate, sodium titanate, potassium sodium titanate, potassium titanate whisker, potassium titanate flaky crystal , strontium titanate, calcium titanate, potassium feldspar, sodium fluoroaluminate, bismuth trioxide, etc through the means of the solid phase synthesis. DayangChem products are highly appreciated by global customers thanks to the high quality and widely used in various industrial fields.
If you are looking for the product's supplier in China, Dayangchem is your best choice.
Pls contact with us freely for getting detailed product specifications, product tech. date sheet, COA and MSDS, prices, delivery time and payment terms.
Details
Hangzhou Dayangchem Co. Limited, established in 2000, dedicated to the development, production and marketing of chemicals. We are a leading manufacturer and supplier of chemicals in China.
Manufacturing base: The Company has some Manufacturing base in Zhejiang, Jiangsu and Shandong provide. These bases focus on production and Contract Manufacturing.
Sales agent: Dayangchem are authorized by many Chinese chemical manufacturers as universal agency and international area agency. Dayangchem has established very good cooperation and business relations with hundreds of Chinese qualified manufacturers by long time business intercourse.
Strong quality control system: Strength of our ethical commitment to quality control and quality assurance systems firmly based on ISO standard. QA and QC used in the whole process of raw material control, process control and finished product quality inspection.
Third lab test: Audit directly and tested by third party like SGS or INTERTEK in any time will be accepted under required.
Flexible payment terms: Various payment terms such as L/C,D/P,D/A and T/T will be accepted. Special Notice: DAYANGCHEM never require customers to remit payment to a personal account. Beware of being cheated.
Rich experience in sales: 1000 square meters of office space with independent property rights, Sales team of nearly 40 people. Our customers throughout the world, especially the world-renowned companies, such as BACHEM, BASF, CELANESE, CORDEN,DOW,EVONIK, GENZYME,HENKEL, MERCK,ROCHE,SANOFI,SOLVAY.
Bismuth Trioxide Descriptions:
Bismuth Trioxide (Bi2O3) consists of yellow hexagonal crystal system, cubic crystal system and equiaxial crystal system. Bismuth Trioxide is insulate, soluble to water but insoluble to acid. It can be obtained by decomposing bismuth nitrate under heat and can be reduced bismuth by hydrogen and carbon.
Properties of the yellow system:
Density :8.9 g/cm
Melting point of 820°c
Boiling point of 1890°c.
Molecular weight:465.96 with 10.3 percent of O and 89.7 percent of Bi.
Properties of the cubic system:
Density:8.55 g/cm
Melting temperature :860°c.There are two types of purified three bismuth oxide: α-type and β-type. α- type belongs to yellow single hexagonal crystal system with the density of 8.9 g/cm and melting point of 825°c. It is soluble to acid, but not to water and alkali. The β-type with the color of bright to orange belongs to cubic crystal system . Its relative density is 8.55 g/cm with the melting temperature of 860°c. It is soluble to acid, but not to water, and likely to be reduced to metal bismuth by H and hydrocarbon.
Applications:
Raw materials for use in making metal bismuth, catalyst, and Bi-system oxide superconductor.
Three Bismuth Oxide Standard:
| | | |
| --- | --- | --- |
| Items | Standard1 (%) | Standard2 (%) |
| Bi2O3 | ≥99.50 | ≥99.9 |
| Matters insoluble to HNO3 | ≤0.01 | ≤0.01 |
| Nitrade | ≤0.01 | ≤0.01 |
| Chlorides | ≤0.005 | ≤0.005 |
| Cu | ≤0.001 | ≤0.001 |
| Pb | ≤0.001 | ≤0.001 |
| Fe | ≤0.005 | ≤0.005 |
| K | ≤0.001 | ≤0.001 |
| Na | ≤0.005 | ≤0.005 |
| Ca | ≤0.005 | ≤0.005 |
| Ag | ≤0.001 | ≤0.001 |